In The Community
The Mega Group is active in the community. We support many organizations such as youth sports & non-profits, we are also very active in local fundraisers and community events. Brian DApice is an active member of the Beverly Rotary Club and currently serves on its Board of Directors.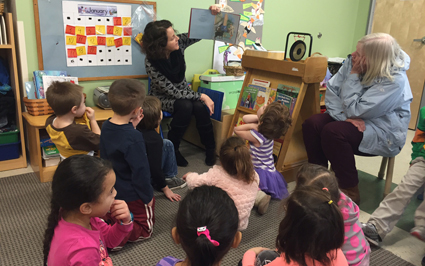 Pictured here is Jennifer DApice reading to the children at the Beverly Children's Learning Center in Beverly. Being a mother of two boys, she enjoys supporting and bringing joy to the lives of young children.
Serving families for more than 40 years, The Beverly Children's Learning Center is an early childhood education and care program providing daytime and after school services to children ages one month to fourteen years in Beverly and its surrounding communities.
Pictured here is Brian DApice, along with fellow Rotarian Neiland J Douglas Jr., bell ringing in support for the Salvation Army during the holidays.
Through Rotary's service programs, a Rotary Club can have a significant effect on the quality of life in its community. Rotary Foundation programs offer opportunities to form international partnerships that help people in need worldwide.